Torres Del Paine W Trek / Patagonia Chile
<![CDATA[Torres del Paine's W - Trek is an experience I will never forget.  It challenged my mind, is pushed my body, and it brought me so much joy.  Here are some of my favorite views, but also what it was like to hike through these mountains.
When we decided to go to Patagonia last year, we wanted to do a trek through  Torres del Paine national Park.  We love all things camping and hiking, and heard that this is the place to do it.  This park allows for daily visitors, but has two main treks that one can hike- the O circuit which is 7-9 days, or the W circuit which is 4-5 days.  We went with the W and decided to do our trek self guided- meaning we would be planning our route and booking everything on our own.  Planning the trek was the hardest part, so if you ever need help planning yours, feel free to reach out to me.  We went with a classic W starting campsite Grey.   
The bus dropped us off at Pudeto where we boarded a catamaran to take us to our drop off point.  The catamaran was beautiful and gave us some stunning views, but we were mostly blocked by tourists as you can see above.  I thought getting a photo of the bride down the aisle was hard, trying to get a nice photo of the park was much more challenging as the catamaran pulled away.  
The catamaran dropped us off at Camp Grande, where we would be spending our second night.  We geared up with our packs and hit the 11 kilometer trail to Grey.  
The views were spectacular, and we had a bit of sun on our first day.  However, this trail was extremely rugged, challenging, and windy.  There was one point where we were hiking through a stream and were not sure if we were still on the trail.  Sure enough we were, and this trail took us up and down, over and over again.  We stopped to take it all in many times and also to rest, our packs were way too heavy.  As novices, we over packed, and regretted that about 2 hours in.  We finally arrived at our campsite six and a half hours later (the map said it would take us 4) with tired feet and sore hips.  
The campsite had stunning views but was extremely windy.  There were times throughout the night we thought our tent was going to blow away, but my husband staked it down really tight.  The next morning we woke up, packed up and left our packs at the ranger station so we could hike pack free up to the swing bridges and get closer to Glacier Grey.  
These swinging bridges have a capacity of two people and sway with the wind.  Of course, the wind was in full force, but as long as you didn't look down, it was great!  There are three bridges up this way in total, and you usually go through all of them the opposite way when doing the O circuit.  We met a lot of people at the campsite doing the O that said there is a pass where the view of the glacier is magical, but it was so windy that you had to do it with a group so no one would blow away.   We decided against getting to the pass for this reason, but also since we had to be back to Grande before the cooking area closed.  We hiked up to two of the bridges and back which took about 3 hours and totaled 11 kilometers.
We grabbed our packs at Grey and headed to Paine Grande, our second campsite for the night. Grande was even windier than Grey, which was hard to believe.  Our tent rattled all night in the wind, so I put in some ear plugs.  We awoke just around sunrise to the views below, it was unreal.  
After breakfast, we packed up our tent and made our way to the Frances campground.  This was my favorite hike of our trip because of the views but also because we finally were gaining our stride with our packs.  The first day it took us 6.5 hours to do 11 kilometers, day 2 it took us 5.5 hours to do the same, we were picking up our pace and no longer worried the sun would go down before we arrived at our campsite.  
We arrived at the Italiano campsite to drop our bags and hike up the mountain to the Frances lookout.  On our way up, we would hear the crack of what sounded like thunder, then look up to see snow falling off the mountain.  This sound happened a lot, and it was the either glacier ice falling off the glacier, or snow moving from one spot to the other on of the mountains.  It was so cool.  
It took us about an hour and a half to climb to the Frances look out.  You could see all the way down into can see the Frances valley below.  There was also another point further up we could climb to called the Britanico look out.  Most of the people on their way down told us it was very cloudy and you could't see anything.  It had also started to sleet.  Yes sleet.  The ice cold rain didn't bother us much at first, we were in layers and layers, but we feared it would make the rocks unsafe.  We headed back down, picked up our packs, then hiked another half hour to the Frances campground where we set up our tent.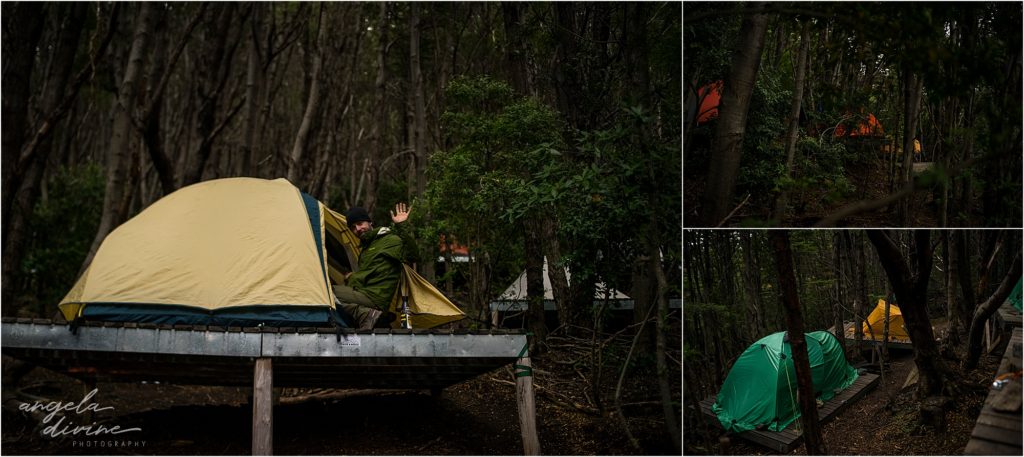 This campground was my favorite visually of the entire trek, but as I mentioned, it was sleeting.  The cold rain made it challenging to set up our tent, stay dry, and unpack.  We took off our rain gear in our tent, changed into long underwear, then put everything back on.  The bathrooms were modern, and it was a sustainable campsite!  Solar powered, no waste, you literally had to carry out all you brought in. After settling in, we went outside to cook a nice hot dinner with whatever we had left, which was pasta and marinara sauce.  Unfortunately, something went wrong, and the pasta was terrible.  We added some spices to it which we had been using all trip, but they must have changed because it literally was so spicy, we couldn't even swallow.  It tasted like devil fire and heart burn all wrapped into one.  Hungry, wet, and cold, we made our way to the restaurant and begged for dinner.  They didn't have any space but said we could come back later and they would make us a sandwich.  Best sandwiches we ever had.
The next morning, it was still raining.  We packed up our tent in the rain, which is always so much fun, and put on our big person pants because we had over 8.5 hours of trekking with our packs until we reached our next campsite. The hike took us down to a beach to start.  The water was this beautiful turquoise and the rain lightened up.  We wanted to stop and hang out on the beach but it was really windy and we also had to keep going.  That was one of the hardest things about our trekking experience was trying to find balance between enjoying the views, taking pictures, but also getting to where you need to go.  Every hike was so stunning that you could literally just sit and take a picture after every five steps.  
After the beach, we started to climb uphill.  Once again, the rain had picked up, and we had to switch back into our full rain gear.  I was so grateful for my rain paints, jacket and gloves.  Although they were soaked, but my clothes underneath were dry and we were able to keep a smile on our face as we wound around the mountain.
As we approached Chileno, we saw a lot of people on the trail turning around.  It was snowing at the base of Torres and they had closed the trail.  We were permitted to make it to our campsite, but all others had to turn around.  The base of Torres is one of the most iconic places at Torres del Paine, and you will see why shortly.  So many people were bummed that they had hiked four hours only to turn around at the half way point.  
We were wet, tired, but kept our pace up as we entered into our campground Chileno.  Once again, it was raining, and our tent was a little damp.  We brought towels and cleaned up the water.  We made our way to the showers for a nice hot steam then into the dining room where we had ordered dinner.  We had planned on having a nice meal on our last night, and thank goodness, because it was wet, raining very heavily now, and oh so cold.  Normally, it's around 40-70 degrees between night and day.  We had spent most of our time in the park between 32-45 degrees.
We woke up at 4am to our alarms so we could hike to the lookout point at the base of Torres.  We put on our headlamps and left in the dark with a group of six semi strangers from all over the world.  It was dark, we sometimes lost our way, and as we progressed upward, the rocks were slippery and covered in snow.  Our rain gloves were soaked from the night before, so they were of no use.  Our hands were frozen, but the views of the sun rising were worth it.  
When we reached the top of the base, the wind picked up and was whipping the snow around.  There were about 15 people up there including some friends we had trekked with most of the way.  We were all cold but wanting to see the rocks turn red, so we did everything to keep ourselves warm.  Tom played drum solos, our new friends did punches and squats.  I stood there almost crying, it was great.  We stayed up as long as we could, which was about 45 minutes.  My hands were now red and I was afraid that I was getting frostbite.  I was so right, my hands are still a little messed up from this hike, but we took one last photo and headed back down the mountain where I repeatedly told myself and Tom that I was going to slip and die.  It was by far the craziest things I had never done in my life. 
I think we did the base just right, because the snow was starting to melt on our way down and the rocks were getting more slippery.  Plus, we got to see all these beautiful views on our last day at the park.
We finally made it back to our campsite which looked so dreamy in the morning light.  We had only seen it rainy and cloudy, it was a real treat to finally feel the sun after a few days of rain.  We made a cup of tea and celebrated with our new friends.  We had completed the W circuit and hiked over 88 kilometers with our packs!  The way down the mountain was bitter sweet.  We didn't want to leave, especially now that it was a nice day.  However, our time was up, and we were sore, tired, yet so filled with happiness.
When we arrived back in town to return our stove and hiking poles, the people at the rental store told us we had the worst rain/weather in the park all summer.  I agree that our weather wasn't the best, and we may have had a more enjoyable time if it was better, but we did it.  We did the W circuit!  The first day I couldn't even lift my pack, and the last day, my pack felt like nothing.  We were stronger, made new friends, and felt proud of ourselves for making the most of each moment. The W was the most incredible trip of my life.  If you love trekking, this is your paradise.  It's hard to pack and plan this trek, but I'm here if you need help.  What a crazy start to our trip in Patagonia. Love camping/hiking?  Me too!  Here's one of my local favorite spots https://angeladivinephotography.com/tettegouche-state-park/ ]]>