Engagement Photos for Minnesota Wild Fans Jamie + Giles
Jamie and Giles met thanks to mutual friends in 2017, and after talking for several months, Giles worked up the courage to ask her out on a date. Their first date wasn't a fairy tale story; in fact, it was a little awkward. Giles is extremely shy and didn't speak more than a few words to Jamie. Needless to say, the date didn't end well and Jamie doubted they would go out again.
Luckily, Giles started to open up and after more dates together, they realized just how perfect for one another they are!
They were engaged in Las Vegas in January, and were originally planning their wedding for April 11th. Due to the stupid COVID virus, they had to change their date to July, and I'm so sad I can't photograph their big day.
However, we did get to spend some stellar time together, and their engagement session was one of those experiences.
Jamie and Giles are huge Minnesota Wild Fans. Giles even has a Wild themed podcast he does with a friend. They wanted to bring that aspect into their engagement session, so we started at the Tom Reid's Bar, the spot they usually pregame at.
They love beer and poutine, so they ordered a round and their favorite app and enjoyed happy hour together. We walked around the bar to take some photos with their Minnesota Wild jerseys on, then headed off to Raspberry Island for sunset.
The park was quiet, and it felt like we had the whole place to ourselves. Between photos, we shamed Jamie on her favorite Minnesota State Fair foods (all in good fun) and shared silly stories.
We watched the sun peep down behind the tall buildings of St. Paul, then went our separate ways for the night.
Jamie and Giles – I am so sad we can't work together on your wedding day, but I know we will cross paths again! When this all ends, let's please get some beer and poutine together! Sending you all loads of love and well wishes for your new wedding date!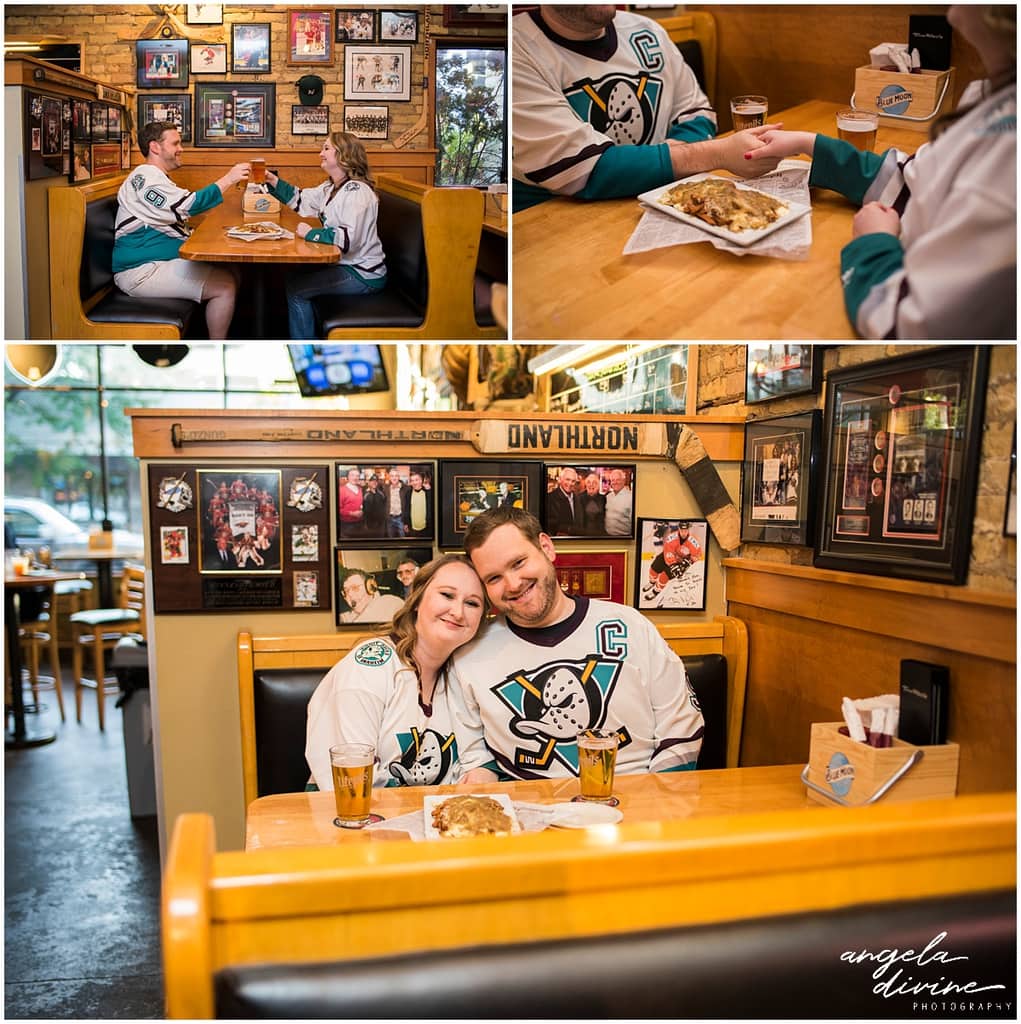 Want to see more engagement sessions? Check out this one from last summer!
https://angeladivinephotography.com/firemens-park-chaska-engagement-session-megan-billy/